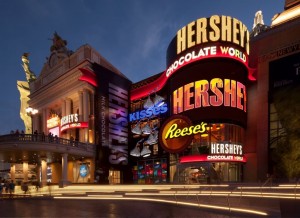 With a multitude of attractions, restaurants, shops and casinos to explore, looking for things to do in Las Vegas can be a daunting experience.  If your travels include children, the challenge can be even greater.   For an exciting adventure for the entire family, look no further than HERSHEY'S CHOCOLATE WORLD Las Vegas.  The 14,000 square foot, 2-storey attraction has made the Las Vegas strip just a little bit sweeter since it opened in June.
Located at New York New York Casino, on the famous Vegas strip, the unique retail attraction has quickly become one of the top things to do in Las Vegas.
With an eye-catching 74-ft. façade and state-of-the-art video sign boards, this location glistens with excitement.  The store is a whimsical and imaginative experience for guests of all ages – a destination where chocolate lovers from around the world can enjoy unique experiences, explore a wide selection of gifts and indulge in fresh made sweets. Some of the decadent items available include thick and rich milkshakes topped with whipped cream and a signature HERSHEY'S KISS, chocolate dipped strawberries, and a variety of fresh bakery items such as cookies and cupcakes.
The store is home to over 800 candy and chocolate delights including iconic brands they love: HERSHEY'S, HERSHEY'S KISSES, REESE'S, ICE BREAKERS, JOLLY RANCHER, TWIZZLERS and a whole lot more.  The store also pays homage to their location at New York New York with sweet recreations of two of the big apple's most famous landmarks.  An awe-inspiring 800-lb pure HERSHEY'S milk chocolate Statue of Liberty which stands 18-ft. high, and a replica Empire State Building made of 1800 HERSHEY'S milk chocolate bars.   Guests also enjoy experiential surprises like the chance to "star" in a REESE'S Peanut Butter Cup commercial and a variety of interactive opportunities ideal for sharing via social media.
For guests young or old, HERSHEY'S CHOCOLATE WORLD Las Vegas tops the list of things to do.