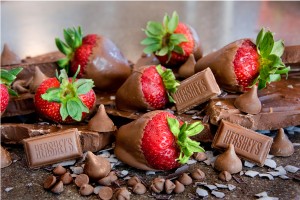 Las Vegas is known for its wide-ranging and prominent shopping scene which just got even better! The Las Vegas strip is now home to a 14,000 square foot Hershey's Chocolate World store.
Hershey's Chocolate World Las Vegas gives "chocolate lover's" a selection of over 800 types of Hershey's brand products including items exclusive to the Las Vegas store.
While shopping in Las Vegas, you can stop in and pick up Hershey's Chocolate Bars, one-pound Reese's Peanut Butter Cup, jumbo-sized Hershey's chocolate and strawberry syrup bottles. The store also features unique souvenir's which include coffee mugs and clothing items that will make for fantastic gifts. When shopping at Hershey's, you can treat yourself to a variety of fresh sweets made right in-store including fresh bakery items, mouth-watering fudge, and chocolate dipped strawberries just to name a few.
If you're looking for the most exciting shopping in Las Vegas, then make sure to stop by Hershey's Chocolate World.
We guarantee you that shopping has never tasted so sweet!