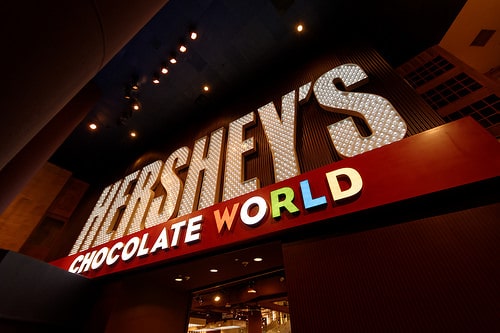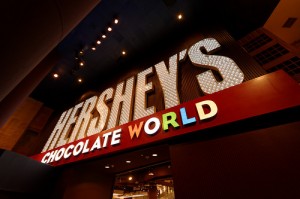 Hershey's Chocolate may be an American company, but it is a worldwide phenomenon. Hershey's is beloved by everyone, which is why the company has placed its celebrated stores all over the globe for universal enjoyment. Still, Hershey's rewards its first — and favorite fans — in America with four fantastic Hershey's Chocolate World locations around the country. The next time you are planning a road trip, make it a sweet one by seeing the unique Hershey's attractions in each one of these marvelous cities.
1. Las Vegas, United States
The newest member of the Hershey's Chocolate World family, the Las Vegas site is excited to provide a sweet retreat for world's travelers. With an excellent location adjacent to New York-New York Hotel and Casino, this chocolate paradise is full of more than 800 different Hershey's products — including the candies you love, as well as baked goods made fresh daily. The new Chocolate World is two stories totaling 13,000 square feet filled with chocolaty, sugary goodness. The Las Vegas Hershey's Chocolate World is currently the first and only Hershey's store on the West Coast.
While the mouth-watering Bake Shoppe is a must-visit, there are several other delectable features in the store. Two walls devoted to every imaginable variety and flavor of Hershey's Kisses and Jolly Ranchers are ripe for the picking, while the Reese's Perfect Combination attraction dares you to tinker with Reese's perfect formula of milk chocolate and peanut butter. Before you leave, you must see the fantastic chocolate statues commemorating the Statue of Liberty and the Empire State Building — a salute to the store's neighboring hotel and casino, where plenty of other Las Vegas thrills await.
2. Chicago, Illinois
You'll find the Midwest's own chocolate wonderland on Chicago's Magnificent Mile, surrounded by 13 blocks of more than 460 stores and 275 restaurants. Hershey's Chocolate World in Chicago delivers on the deep history and proud culture Milton Hershey began building more than a century ago. Children and adults alike delight in the ample learning opportunities available at this location. Chicago has significant importance for Hershey's Chocolate Company, as it was at the 1893 World's Fair that Milton Hershey was inspired to begin making chocolate. You can learn about the brilliance and innovation of the early days at Hershey right in the store. Then, you can don a Hershey's factory worker cap and ID badge to learn about how Hershey's treats, like Kisses and Reese's, are made.
Once you've learned the facts, you can truly enjoy the treats. This location, like most others, has an outstanding bakery with novel and delectable freshly baked sweets, as well as the opportunity to pour your own bags of Hershey's candies to achieve the perfect mix.
3. New York City, New York
It might be hard for other businesses to stand out amongst the glitz and glamour of Times Square, but Hershey's Chocolate World has no problem attracting attention. This outpost of Hershey's Chocolate World is devoted to personalization and experimentation, where travelers and citizens of New York City can make candies that are all their own. You can wrap your own Hershey's bars and treats with personal touches like photos and messages to family and friends — then you can buy the same loved ones their own bundle of sweets and Hershey's-related souvenirs.
One of the most popular attractions in Times Square Hershey's Chocolate World is Hershey's Happiness, where chocolatiers and confectioners exhibit Hershey's new and exciting candy creations. If crowds in America's biggest city approve of the treats, it's likely you'll see them in your hometown grocery store soon enough.
4. Hershey, Pennsylvania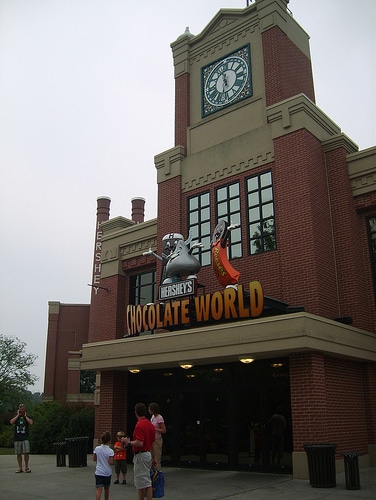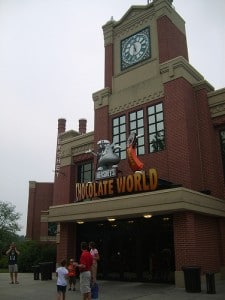 There is perhaps no better place to see and experience Hershey's chocolate than where it all began: Hershey, Pennsylvania. This first and greatest Hershey's Chocolate World has dozens of unique features and attractions that draw chocolate and candy lovers in droves. There are so many goodies to eat and exhibits to explore; you might even have to come back for a second day. Here's what's waiting for you in Hershey, Pennsylvania:
The Great American Chocolate Tour. On this 30-minute ride, you will travel from the jungle to the factory and learn exactly how Hershey's chocolate is made. A delight for all the senses — including smell and taste! — this ride will make you ready for more Hershey's.
Hershey's Great Chocolate Factory Mystery in 4D. This theater extravaganza will have you on the edge of your seat, as you work with on-screen characters to collect clues and solve the chocolate caper. Believe it or not, there are more than 100 variations of the show's plot, so you can see it over and over and still be stumped!
Hershey's Chocolate Tasting Adventure. Chocolate is a subtle and complex flavor, so Hershey's employs countless chocolate experts to help the company find the highest quality cocoa and best combinations for its candies. At this attraction, you'll work alongside the experts to learn about chocolate from beginning to end and begin understanding what makes chocolate taste so good.
Besides these, you can indulge in absolutely any of your favorite Hershey's sweets, from Almond Joys to Kit-Kats, and explore the rest of the town that Milton Hershey built.
Getting Hershey Park Happy image by fauxto_digit from Foter.com
Hershey's Chocolate world image by jdnx from Foter.com