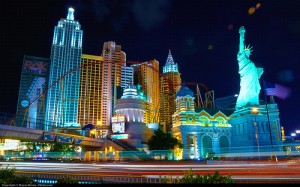 New York is undoubtedly one of the greatest cities in the world. It claims some of the nation's favorite landmarks — the Empire State Building, the Statue of Liberty, Times Square — and is essentially the hub of American trade and culture. However, one thing New York doesn't have is Las Vegas — but Las Vegas certainly has New York.
The New York-New York Casino and Hotel is one of the best destinations in Vegas because it boasts all the amenities of the Big Apple in the middle of the Nevada desert. If you desire a Las Vegas vacation but can't stand the thought of leaving your beloved NYC, here's how to get a true experience without feeling like you've completely left your favorite city.
Accommodations
To make you feel at home, most of the room packages available in the hotel are named after iconic New York locations. For example, Park Avenue is the standard room, with plush king or queen beds and space to spare; alternatively, the Madison Avenue is a deluxe option with even more luxury built into the spacious area. Plus, unlike the real city, rooms in the New York-New York Hotel are priced exceptionally low for their location on the Strip, which means you may actually save money by going on vacation outside NYC.
Shopping
New York City is a shopper's delight — and the same can be said for New York-New York Las Vegas. Sweet lovers cannot miss Hershey's Chocolate World, where you can find more than 800 different varieties of Hershey's candies as well as fresh baked goods and interactive exhibits on Hershey's history. This store is only in a small handful of cities around the world — and luckily enough, you can find it right outside New York-New York, Las Vegas.
After you recharge, you can devote yourself to the wealth of other shopping around New York. A handful of boutiques like Zumanity and SoHo Shop can cater to your fashion needs, but if you have a serious need for retail therapy, you can descend to the mezzanine level where you can find a plethora of other stores.
Restaurants
If you haven't filled up on delectable Hershey's treats, Vegas's New York has some of the best dining experiences around — much like the real city. In fact, there are more than 14 different eateries within the Hotel and Casino compound, so you can happily dine on different fare every meal of every day during your stay. While there are quite a few quintessential Vegas restaurants in the bunch, you'll likely be able to stave off homesickness by eating at any of the following New York joints:
Shake Shack. This East Coast staple for quick and delicious burgers, fries, and frozen custard has finally made its way west. In fact, this newly opened Vegas outpost of New York's favorite burger shop is the only one of its kind for hundreds of miles.
Nathan's Hot Dogs. This Coney Island original is now totally global, which makes it easier than ever for a New Yorker to grab a savory dog outside the city. You can grab your favorite hot dog — mustard and relish, no ketchup, right? — or try something new at the best hot dog stand in the world.
New York Pizzeria. While New Yorkers recognize that their city is best at just about everything, the rest of the world isn't going to argue when it comes to pizza. Something in the water makes the crust come out just right, and New York chefs know what it takes to make the perfect sauce. However, this pizzeria in the middle of Las Vegas can match a New York chef pepperoni for pepperoni, which is why you must grab a slice here.
Attractions
More than anything else, it is New York New York's attractions that make it the perfect amalgamation of NYC and Las Vegas. Coney Island is renowned as one of the oldest amusement parks in the nation, and New York Hotel and Casino is recognized as one of the first destinations in Vegas to feature thrilling experiences to match the coasters and rides in east Brooklyn.
In fact, New York's Big Apple Coaster is the world's first to "heartline" twist and dive, which rotates passengers 180 degrees during travel at breakneck speeds; it should be no surprise the coaster's cars are made to resemble New York taxi cabs. If that isn't enough heart-pounding action, right next door to the coaster is the Big Apple Arcade, where kids of all ages can enjoy the latest and greatest video and arcade games all day and night.
For more adult fun, the New York Casino beckons with games to suit any sensibility. Hundreds of table games, including all types of poker as well as blackjack, craps, baccarat, and roulette, mix with thousands of slot machines to create a gambler's paradise. Certainly, this quality entertainment isn't available anywhere in the big city — unless you come to Las Vegas.
Las Vegas, Nevada, USA image by Moyan_Brenn from Foter.com