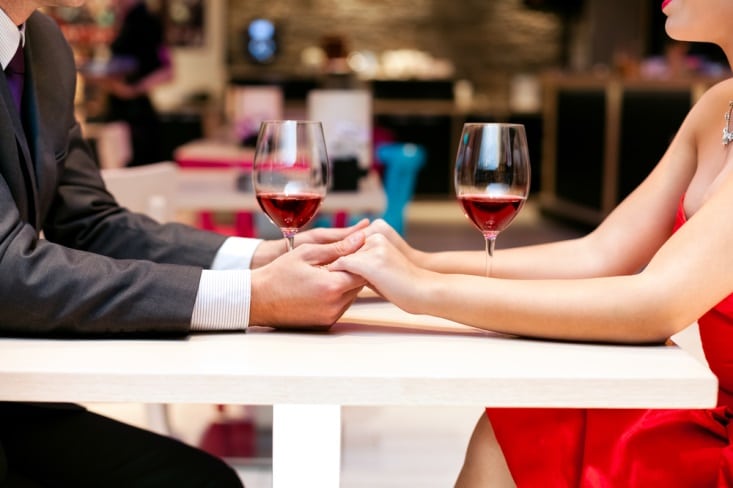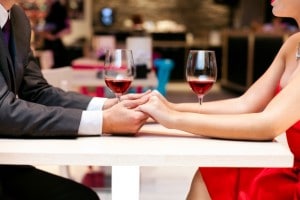 Las Vegas is one of the most romantic cities in the United States. Full of culture and life, it exudes an atmosphere of excitement and love; perhaps it should come as no surprise that as much as five percent of all marriages in the United States take place here.
From the plentiful wedding chapels to the stunning performances and excellent food and drink, Las Vegas has everything a couple needs to celebrate an extraordinary Valentine's Day. Read on to find out exactly what Las Vegas has on offer for February 14, 2015.
Decadent Dining
Las Vegas offers many romantic places to dine on Valentine's Day. Not every hole in the wall will be able to provide the ambiance necessary for lasting love, which is why you should first consider the following establishments for all of your February 14 meals:
Eiffel Tower Restaurant. Paris is known worldwide as the City of Love, but not everyone can fly to France on a weekend in February. However, you won't feel like you're settling when you sit down to excellent French cuisine at the top of the Eiffel Tower. As a bonus, the Eiffel Tower Restaurant can provide special services to those looking to pop the question, including packages with Champagne and rose petals.
Hugo's Cellar. Hugo's Cellar has been a feature in Downtown Las Vegas for decades, servicing countless couples with unparalleled elegance and romance in a more casual setting. Filled with the feeling of Old Vegas, this restaurant is as charming as it is amorous.
Andre's. With an AAA Four Diamond rating, Chef Andre Rochat's restaurant offers the typical elements of fine dining: white linens, fine silver, and candlelight — as well as outstanding cuisine.
Hershey's Chocolate World
Take a trip to Hershey's Chocolate World and experience more than 800 different varieties of America's favorite chocolate. It's a sweet experience that offers interactive fun and all of your favorite Hershey's treats and sweets.
The High Roller
There is even more opportunity for romance rocking 550 feet in the air while sipping Champagne and nibbling on pastries. The world's biggest and best observation wheel stands proudly at the center of Las Vegas, and while usually the High Roller caters to any and all thrill-seekers visiting Las Vegas, on Valentine's Day, this attraction especially welcomes pairs with a variety of packages. The High Roller will provide loving couples with world-class drinks and snacks during long rides up and over dazzling Las Vegas.
Marriage Licenses
As the only holiday celebrating romantic love, February 14 is a popular day for couples to tie the knot. Traditional wedding venues in Las Vegas are regularly booked solid for months if not years in advance, and even quick wedding chapels fill up their availability surprisingly soon.
However, if you and your sweetheart have a will to be wed on your Vegas Valentine's Day, there certainly is a way. Here are the steps to procuring a valid marriage license in Las Vegas:
Locate a licensed chapel, or visit the Office of the Clark County Commissioner of Civil Marriages. Churches and synagogues usually require some advance notice, whereas typical Vegas wedding chapels and the Civil Marriages Office take walk-ins.
Consider the amenities offered. Wedding chapels have several different wedding packages to choose from, which vary in price and amenities included. You will need to know ahead of time if you want special decorations, photography, or officiants.
Procure a marriage license. Unlike other cities, Las Vegas makes getting married simple because it does not require a waiting period to solidify your relationship. You will need two licenses, one for each of you, submitted to the Civil Marriages Office before you perform the ceremony.
Remember that marriage is real, even in Las Vegas. Though our city's motto is "what happens here, stays here," the same is not true of marriage. Do not enter into marriage lightly, even on the holiday of true love.
Bellagio Fountains
At the end of the night, just before you head back to your room to enjoy more Hershey's chocolate, stop and admire the magnificent Bellagio Fountains. This attraction is particularly beautiful, with its inspiring music and dancing water, which is perhaps why so many proposals and weddings occur at its feet every year. You and your love can stand, hand in hand, and watch the serene fountain as you think back on all the unforgettable memories you made on Valentine's Day in Las Vegas.