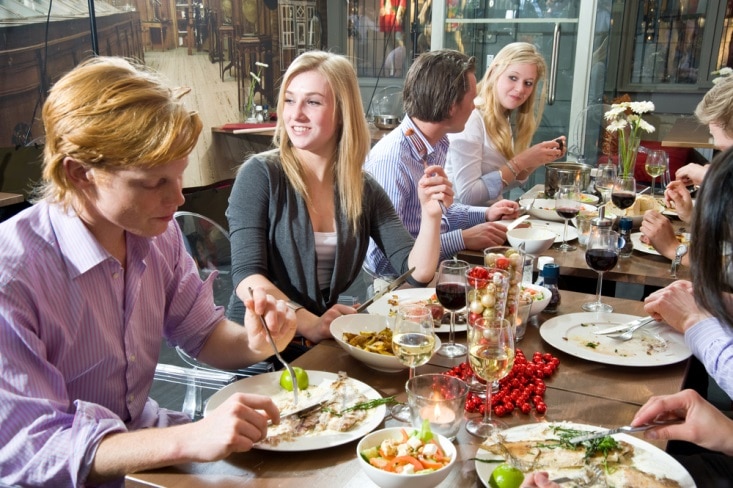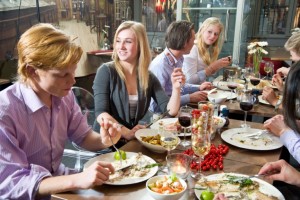 There is so much to see and do in Las Vegas that you'll probably feel hard-pressed to waste precious hours waiting for your entrees in a regular restaurant. That's why when time is short and budgets are tight, most visitors to Las Vegas enjoy a time-honored Sin City tradition: the buffet.
Buffet dining has come a long way since the time of lukewarm mac 'n' cheese and overcooked filets. Since Las Vegas has become a mecca for world-famous chefs and excellent cuisine, even hotel breakfast buffets — notorious everywhere else for their powdered eggs and days-old bagels — have begun producing unique dishes of outstanding quality. If you want to save time and money but you aren't willing to compromise on a sub-standard meal in the beating heart of America's culinary scene, you should head straight to any and all of the following brilliant buffets in and around Las Vegas.
Bacchanal at Caesar's Palace
Don't be fooled by the sleek and contemporary design — Bacchanal is a buffet that merely looks like an expensive, upscale restaurant. Lauded by critics as one of the best eateries in Las Vegas, let alone the hands-down best buffet, Bacchanal offers nine cooking stations staffed by top cooks from around the world. Nearly 500 dishes are served every day, as well as 15 unique daily chef specials, so you are certainly likely to fill many plates with delicious foods.
Unfortunately, as lines to this buffet grow around the corner, the prices for access to this world-class buffet continue to rise. The best time to dine here is for breakfast, when prices are cheapest: $25.99 per person. Fortunately, breakfast foods seem to be diners' favorites, as Bacchanal's fried chicken and waffles and red velvet pancakes top their most-requested- food lists.
Wicked Spoon at Cosmopolitan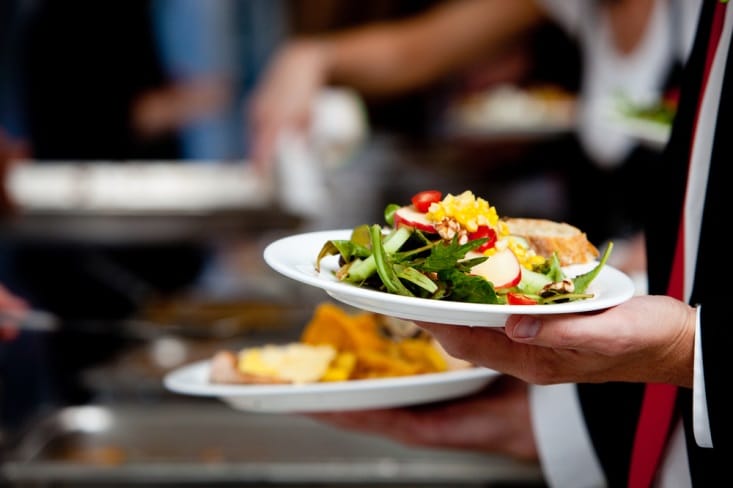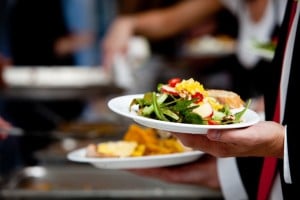 Most buffets still rely on industrial-sized pans resting above heaters to serve food, but not Wicked Spoon. Instead, diners here will find different stations offering individual portions on single plates, which makes for tasteful presentation — and food. Plus, the single servings make it much easier to eat an appropriate amount, so you won't leave feeling painfully bloated.
Though you aren't likely to find Wicked Spoon's fare in the average buffet, the dishes are nonetheless quite familiar: prime rib, crab legs, and the like. A good bet is coming here for a filling lunch, which will only cost about $24 per person.
The Buffet at Aria
Recently renovated and absolutely stunning, the Buffet space in the Aria Hotel and Casino perfectly blends chic, modern American design with simple, delicious global cuisine. Aria has worked hard to provide some of the most diverse buffet stations on the Strip, and it has succeeded with flying International colors.
The Mediterranean bar offers tastes of Greece, Northern Africa, and the Middle East, and the Indian space has a traditional tandoor oven where naan bakes and kabobs sizzle just like they do on the streets of Chandigarh. Plus, kids will love the all-American diner section, where they can find superbly prepared favorites like meatloaf, grilled cheese, and tomato soup.
On weeknights, you can have access to the marvelous dinner buffet for $34.99 per person, which is an unparalleled price for such quality cuisine.
HERSHEY'S CHOCOLATE WORLD Las Vegas
After you have visited every station twice, there is only one solution: dessert! One last food counter is waiting for you in the chocolate and candy wonderland that is the HERSHEY'S CHOCOLATE WORLD Las Vegas store. All day, every day, pastry chefs and confectioners toil to create new and improved versions of your favorite HERSHEY'S treats. At the bakery station, you'll find dozens of fresh-baked goodies, from chocolate-dipped strawberries and a plethora of homemade fudge to brownies and cupcakes inspired by individual HERSHEY'S sweets.
During your visit, to help you digest all the edible goodies you've enjoyed during your Las Vegas vacation, you can delight in a number of unique HERSHEY'S experiences, like designing your own HERSHEY's Chocolate Bar wrapper or understanding your perfect combination of peanut butter and chocolate in a REESE'S Peanut Butter Cup. Bring a little HERSHEY'S Chocolate World Las Vegas back to your hotel by filling up bags with your favorite varieties of HERSHEY'S KISSES chocolates, JOLLY RANCHER candy, and any of the other 800 types of Hershey's candy.
When you visit Las Vegas, America's headquarters for topnotch food, you want to sample as much as you can in the limited time you have. Buffets are one of the best ways to save money and maximize your exposure to the various cuisines of the city. Instead of missing out on any of your favorite foods during your dream vacation, you can have it all — at the perfect price — with amazing ambiance, too — at these amazing buffets.